DSST - DANTES Subject Standardized Tests
DSST is a credit by examination program accepted by 1,900 institutions in America. These tests are useful for active duty and veteran military members, home schooled students, and other individuals who want to earn college credit and graduate faster.
The DSST tests are a suite of 30 tests that cover broader subject areas such as Humanities, Sciences, Physical Sciences, Math, Applied Technology, and Business. These tests are internet or paper based, with multiple choice question format. The tests ate two hours long, comprising of almost 100 test questions.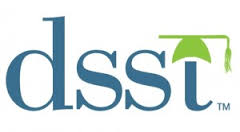 A complete list of DSST tests is given here:
A History of the Vietnam War
Art of the Western World
Astronomy
Business Ethics and Society
Business Mathematics
Computing and Information Technology
Criminal Justice
Environment and Humanity: The Race to Save the Planet
Ethics in America
Foundations of Education
Fundamentals of College Algebra
Fundamentals of Counseling
Fundamentals of Cybersecurity
General Anthropology
Health & Human Development
History of the Soviet Union
Human Resource Management
Human/Cultural Geography
Introduction to Business
Introduction to Law Enforcement
Introduction to World Religions
Lifespan Developmental Psychology
Management Information Systems
Money and Banking
Organizational Behavior
Personal Finance
Principles of Finance
Principles of Physical Science I
Principles of Public Speaking
Principles of Statistics
Principles of Supervision
Substance Abuse (formerly Drug and Alcohol Abuse)
Technical Writing
The Civil War and Reconstruction
For more details on these tests please visit: http://getcollegecredit.com/exam_fact_sheets.
Test Availability:
The tests are available at USEFP centers in Islamabad, Lahore and Karachi five days a week, Monday through Thursday, throughout the year.
Test Registration:
Registration and payment is completed at the testing center within the testing platform on the day of the exam. The things you need to keep in mind before scheduling a DSST test are:
Finding out your school's policy on credit by examinations
Choosing which specific test, you would like to take
Locating the test center by searching the DSST database
To schedule your test at USEFP test centers, please send us an email at testing@usefp.org
ID Policy:
At the time of registration please make sure that the name you enter matches exactly with the name appearing on your identification, including the spellings and order of the name.
On the day of the test all test takers must present a current and valid picture identification such as a driver's license, passport, or picture student identification. Only test takers who present acceptable forms of identification will be permitted into the testing room; unauthorized visitors or those without acceptable ID will not be permitted in the testing room.
Test Fee:
The DSST test fee starts at $80 per exam. Test takers may also have to pay an administrative cost at the testing site.
Scores and Score Reports:
Test takers receive the results of their internet based tests immediately after completion of their tests. They may also login to the testing platform at any time to review and reprint their score report.
Test Preparation Materials
To prepare for the DSST test, please check see the following preparatory material mentioned on the official website: http://getcollegecredit.com/testprep.