TOEFL iBT® - Test of English as a Foreign Language
The TOEFL iBT® evaluates the English proficiency of students whose native language is not English. The TOEFL iBT® test measures candidate's ability to use and understand English at the university level and it evaluates how well you combine your listening, reading, speaking and writing skills to perform academic tasks.
ID Policy
All test takers in Pakistan must use either a valid passport or a valid state issued SMART National Identity Card as their ID (Identification Documents). Without these IDs, you will not be admitted at the Test Center on your test date. If the passport does not have a signature then the candidate should provide a supplemental ID which includes, CNIC, Driver's license, Student ID or Letter of Identification from a school. All the IDs must be original, non- expired and without having any cancelled stamp on them.

It is very important that the name which you register with exactly matches the name appearing on your ID. If there are any name discrepancies, then you would be asked for other valid IDs. Even then, if the name on your presented IDs does not match your registered name, you will be turned away.
Test Availability
| | | |
| --- | --- | --- |
| Month | Dates | Centers |
| Jan 2024 | 6, 13, 20, 27 | ISB, LHR, KHI |
| Feb 2024 | 3, 17, 24 | ISB, LHR, KHI |
| Mar 2024 | 2, 16, 17 | ISB, LHR, KHI |
TOEFL iBT fee:
Test Fee (USD):
US$205
Other fees:
Item
Fees
Late registration
US$40
Rescheduling
US$60
Reinstatement of cancelled scores
US$20
Additional score reports (per institution or agency)
US$20 each
Speaking or Writing Section score review
US$80
Speaking and Writing Section score review
US$160
Exams Registration
Online
You can register and schedule your TOEFL iBT® Online using a credit card at least seven days prior to your first choice test date. Late registration closes 3 days before your test date (not including the day of the test) and has a late fee of US$40.
Through USEFP centers
You can register for TOEFL iBT® test at any of our centers in Islamabad, Lahore and Karachi. At the time of registration you need to:
Payment will be accepted in Pak. Rupees, equivalent to $205 in favor of "United States Educational Foundation in Pakistan".
Before preparing the bank draft please confirm the dollar rate from us.
Bring your valid passport with you.
Take an appointment through telephone before visiting our center.
Reschedule/Cancel exam
To reschedule or cancel your registration, make your request no later than 3 days before your test date (not including the day of your request or the day of the test). The rescheduling fee is US$60. Your original registration fee must be paid before you can reschedule.
Reschedule or cancel online: Log in to your TOEFL® iBT account, click "View Order(s)" on your home page, and then click "Modify" or "Cancel" on the Order Summary page.
Reschedule or cancel by phone: Provide your registration number and full name used when you registered. From Pakistan please contact Regional Registration Center in Malaysia Kuala Lumpur on +60-3-7628-3333.
Scores and Additional Score Reports:
You can select up to 4 institutions or agencies as score recipients when you register or you can make your selections or change them online until 10 p.m. (local test center time) on the day before the test. To select or change your score recipients, log in to your TOEFL iBT® account and click "View Order(s)" on your home page. Scores are posted online approximately 15 business days after your test date. Allow 4-6 weeks for the delivery of the official score reports. To view your scores online, log in to your TOEFL iBT® account and click "View Scores" on your home page.
In addition to the institutions you select with your registration, you can send your scores to as many institutions as you choose for a fee of US$20 per report.
Additional Score Reports
Order Online: Log in to your TOEFL iBT® account and click "Order Score Reports" on your home page. Then click "TOEFL Services" option. Pay by credit/debit card or e-check.
Order by Fax: Fill out the TOEFL iBT® Official Score Report Request Form. Fax it with your registration number and credit/debit card information to 1-610-290-8972. If you send the same fax more than once, write "DUPLICATE" in large letters on the form to avoid extra charges to your credit/debit card.
Order by Mail: Print and complete the TOEFL iBT® Official Score Report Request Form (PDF) at Scoring Services on your online profile. Mail it with your payment to:
ETS-TOEFL iBT
P.O. Box 6153
Princeton, NJ 08541-6153 USA
NOTE: For online orders, scores are mailed 4-7 business days after your request is received. For mail or fax orders, scores are mailed 2 weeks after your request is received. Allow 3-4 weeks for delivery of the score reports.
Test Preparation Materials:
Material is available on Test Preparation.
This is the ONLY Web site with previously administered TOEFL iBT® test questions and exclusive scoring from ETS that helps you prepare for test day!
Gives INSTANT scores and feedback for Reading, Listening, Writing and Speaking sections.
Offers a variety of practice tests so you can monitor progress.
To prepare for the TOEFL iBT® exam, please check out the following test preparation books that are easily available at all good book stores all over Pakistan.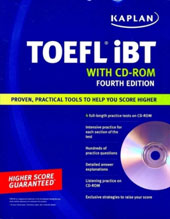 Disability Services
Applying for accommodations for Test Takers with Disabilities and Health-related needs please visit TOEFL® disabilities.
Note: GRE, TOEFL and TOEFL IBT are registered trademarks of Educational Testing Service (ETS) in the United States and other countries.